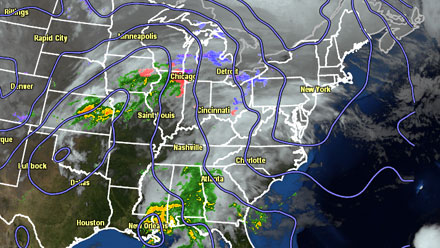 Good morning! The threat of large, powerful Nor'easter or blizzard continues to grow in Southern New England. Overnight computer model information suggests that the storm has the potential to be one of the all-time greats in CT, RI, and MA. The height of the storm is 36-48 hours away, and there are still some uncertainties regarding the track and intensity of the system, but, even if it does not reach its full potential, it will still be a formidable storm capable of producing more than a foot of snow in the hardest hit areas. A Blizzard Watch is in effect for Southeastern New England.
Thursday will be a quiet day, with highs only in the mid to upper 20s as clouds gradually drift in during the afternoon. Those clouds will thicken Thursday night, and some light snow or flurries are possible by dawn Friday. The storm will developing south of east of Cape Hatteras, NC early Friday, and it will slowly move north during the day. Light to moderate snow or a mix of rain/snow is in the forecast through late Friday afternoon. Around sunset, the storm's intensity should increase, and any mixed precipitation will be changing to snow during the evening.
Heavy, wind-driven snow is likely all night, and possibly through midday Saturday. It's impossible to say where the heaviest bands of snow will develop, but the climatologically favored locations with the projected storm track are Kent and Providence counties in RI, and interior SE MA north of Taunton. All of Southern New England has the potential to receive more than a foot of snow from this storm, and the hardest hit areas may receive more than two feet!
The wind will be a major issue near the coast Friday night and Saturday. Hurricane force (73 mph) wind gusts are possible from the coast of RI through SE MA. Moderate coastal flooding may occur on east-facing shorelines during high tides from Friday night through Saturday.
The storm should move away from Southern New England by late Saturday afternoon, with accumulating snow ending by early to mid afternoon. It will be very cold Saturday night, with lows in the single digits in many spots.
This is a potentially dangerous situation that should be taken seriously. Right Weather will continue to have non-stop updates leading up to and during the storm.